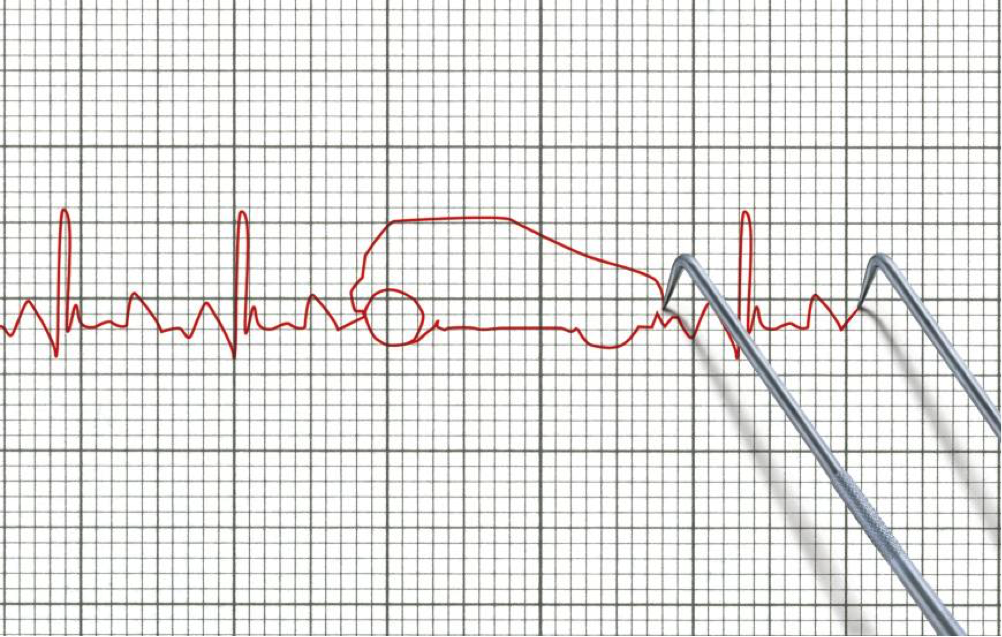 A total triumph in auto innovation, Lexus has developed technology you could only have dreamed of. Their latest project lets them directly translate a driver's heartbeat into a striking electro-luminescent display across the bodywork of their newest concept car.
The Lexus Heartbeat, a one-off RC-F high-performance coupe, is engineered with world-class mechanics that connect a driver's physical experience with their vehicle like never before.
Not quite a motorized mood ring, changing designs on the car's body frame actually gives onlookers a precise picture of how fast the RC-F driver's heart is racing. The frame pulses and glows along with the driver's individual heart rate—the higher it climbs, the brighter and more patterned the car becomes.
If you're passionate about auto mechanics, this will definitely get your heart racing. In fact, that's exactly what this car was made to do. Read on to learn more about the technology behind the Lexus RC-F Heartbeat.
How Lexus Auto Mechanics Made Heartbeat Happen
Lexus put its engineers and mechanics to work integrating new technologies into the car along with its general mechanisms. That means its RC-F Heartbeat features brand new applications of automotive mechanic training.
Essentially, the technological additions monitor the driver's heartbeat and use the data captured to send an electric charge through the RC-F's bodywork. The body panels are finished with electro-luminescent paint, which reacts to the charge with intense blazing patterns synced to the beat of its driver's heart.
Here's a clip of the RC-F Heartbeat in action, showing how a team of mechanics brought their masterpiece to life:
Capturing the Joy of Driving Through Automotive Innovation
Car lovers know that driving a great machine can stimulate an amazing sense of freedom and exhilaration. That's part of why we love them. If you want to become a mechanic, you probably already have an interest in cars that's derived from the joy of both driving them and making them run.
The "emotional responses a machine like the RC-F can inspire in a person" is what Lexus claims sparked their idea for Heartbeat. It's all about showcasing the joy of driving to a world that often forgets to appreciate it. The Lexus RC-F is a high-performance vehicle, part of Lexus Australia's F marque model line, whose elite handling and design make it all the more fulfilling to drive.
It's essential for Heartbeat drivers to feel the buzz of high-performance driving, as the electro-luminescent feature isn't activated unless their heart rates race to 100 beats per minute or higher. Lexus Australia saw Heartbeat's best results when pre-professional racers tried out the RC-F, because their heart-pounding passion for great automotive experience is literally what makes the technology shine.
Check out the test drive here:
New Automotive Industry Collaborations
So many of the world's great leaps forward in technological innovation come from the auto mechanic industry, which endlessly pushes the boundaries of what machines can do. These days, most auto innovation comes from collaboration with other engineering leaders from diverse industry backgrounds.
In this case, the Heartbeat was developed through Lexus Australia's collaboration with the creative agency M&C Saatchi and the American company Luminor (which developed the incredible electro-luminescent paint).
Other collaborations that apply both traditional mechanic training and surprising engineering innovation have made huge strides for Lexus this year alone. Working with advanced classification technologists at APN Outdoor, Lexus introduced "smart billboards," which tailor ads to the car you're driving. Lexus even helped magnetic levitation specialists from IFW Dresden and Evico GmbH build a real hoverboard, the world's first of its kind.
Are you interested in pursuing auto training by enrolling in an automotive school? Visit CATI for more information or to speak with an advisor.